Charlene Low (Artistic Director)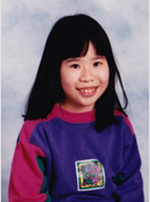 Born in Penang, Malaysia – Charlene moved over to London at age of five where she discovered she had congenital scoliosis, with fused lower lumbar vertebrae whilst falling in love with dance all in her teens.

After training at Trinity Laban Conservatoire of Music and Dance coupled with 10years of Shaolin Kungfu and working in Newham Sixthform College, specialising in integration in performing arts, Charlene ran her own projects teaching, performing and choreographing people with learning difficulties and disabled participants of various ages from 2-95yrs.

Sardines Dance, a collective of exceptional, integrated, contemporary dance artist's was brought together by Charlene in 2010. Sardine's work extends to those with profound multiple learning difficulties in various settings, from that of a relaxed community sharing to a national televised platform.

In 2011 Charlene launched 'Moving Asia', a series of small integrated dance projects bringing access to creativity in Asia from the UK. The pilot was a success and Sardines Dance return annually to deliver master classes, training and performances to strengthen the disabled community in Asia through dance.

In 2013-2015 Charlene became the Executive Director of the Contemporary Arm and Board Member of Wheelchair Dance Sport Association (UK), continuing her work to spread her love of dance integrated further afield.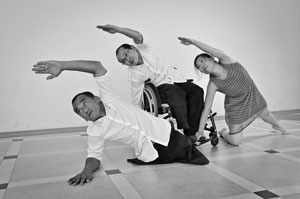 Charlene draws inspiration from her participants, bringing mature heartfelt depth, social and ethical integrity to all she does to motivate, achieve and communicate successfully with others of all backgrounds and ages by delivering closer than close contact, accompanied by the deep beats and dream like freedom from Nitin Sawhney, and playing up to the classic romantic cheekiness produced by Frank Sinatra. This has led her to work with companies such as Royal Academy of Dance, CandoCo, East London Dance, Entelechy Arts, Protein Dance, South Bank Centre and many more.
Rachel Bradbear (Company Manager)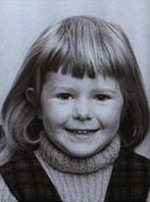 Rachel Bradbear (MSc) is a Creative Producer with over 25 years experience in the creative industries, education, community and arts organisations. Trained in Dance at Middlesex University she went onto teach choreograph and perform, then completed her MSc Dance Science at Trinity Laban where she specialised in Dance and Disability.
She has expertise in event production and management and has produced creative arts-wide partnership projects at a local, national and international level. Rachel regularly designs and delivers high impact projects and events in Dance, Drama, Music, Visual Arts, and Film for multi disciplinary teams in a wide variety of education & community environments. She initiated multiple themed events raising awareness of HIV, AIDS and Sexual Health both nationally and internationally working with young people aged 13 – 25 years. As well as being experienced in international project management coupled with producing work various locations such as London, Leeds, Germany, USA, Namibia and South Africa.
Laura Dajao (Associate Director)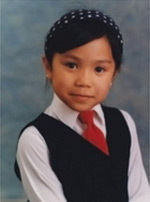 Laura grew up in the heart of East London, with the intent of becoming a doctor.
It was only in 2007, when she was diagnosed with Multiple Sclerosis – that her life changed. Since 2008, when it was necessary for her to be in a wheelchair, she became part of East London Dance's Youth Company – Limitless. It was this connection that made her realise her new found love of dance and focus on integrated dance.
Laura has performed under choreographers from Candoco, Boy Blue, Sidi Larbi Cherkaoui, Impact Dance and Zoo Nation and now is focussing her work on integrated cross collaborative art. Using her experiences with different choreographers and artists, she looks to combine and fuse her knowledge of these forms to create her own vocabulary based on her interest in different dance styles, music and storytelling.
In 2013-14 Laura was a Choreographic Fellow with Gloucestershire Dance, with responsibility choreographing and teaching a cast of in the Community groups on Stuck In the Mud, a site specific set of performances, with Marc Brew. Also curating 2013's last Wild Card event at Sadler's Wells Lilian Baylis Studio – Take A Closer Look.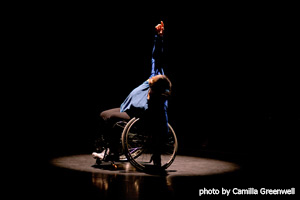 As a follow up to the Wild Card event in November 2013, Laura now looks to create and curate more work about MS awareness and taking the model of Wild Card to different venues.

For more information please visit her website:
Laura Anne Smith (Teacher & Performer)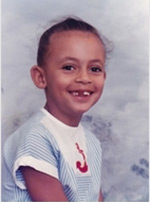 Laura-Anne received her first formal training in dance at Newham Sixth Form College; for which she later became a Learning Support Assistant, specialising in supporting students with physical disabilities and learning difficulties. She was diagnosed with Crohn's Disease at the age of 19.
Laura has participated in numerous dance projects and site-specific work in Berlin, The Royal Albert Hall, south Bank, The Queen Elizabeth Hall amongst others. She has also appeared in a short piece called Three Minute Birth, which was screened on channel 4 and in an award winning dance film titled Home, which has been screened internationally.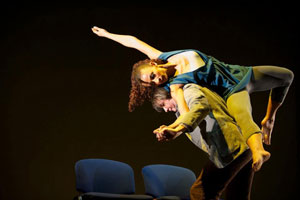 Her work is influenced by other art forms, such as Kallarippayat (a south Indian martial art), Bharata Natayam, and Capoeira.
After gaining a BA Honors in Dance at De Montfort University Laura-Anne found she had a strong interest in Dance/Movement Therapy and specifically in its benefits for people who have had their human rights abused.
Daymien Todd (Dancer)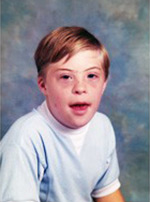 Bought up on a diet of british rock music from the 'Queen', Daymien took to the performing world like a duck to water – attending acting classes with Barnardos Drama Group from the age of 5 years old before joining Spare Tyre Theatre Company for sporadic projects.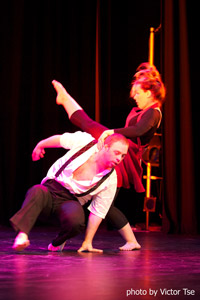 He then found his love for dance when he joined 'Get Up And Groove' integrated dance group run by East London Dance and now lead tutored by Charlene Low, which he has attended for 15 years. Formally known as 'Jellybeans' the session matured into 'Get up and Groove' who train in various dance styles, such as street and contemporary.
Daymien's other passion lies in music and DJ-ing, particularly the RnB genre,where you'll catch him at his regular spot every month as a guest DJ for the 'Groovy Cat Club' and 'Kicking Kangaroo Events' as his alias DJ Shake Me Up.
Krupa Chavda (Teacher & Performer)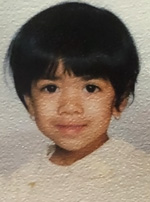 Krupa Chavda is a Dance artist that believes EVERYONE can dance!
Krupa started her dance training in Newham Sixth Form College and at the same time was part of the East London Dance Youth Company. She went on to gain formal training in Ballet, Contemporary and Jazz at Lewisham college and went on to get BA Hons in Dance Performance at Middlesex University. She is an established performer, teacher and choreographer. She currently teaches CCYD at Newham Sixth Form College where students have additional SEND needs.
Krupa loves being a chameleon in dance styles. She specialises in Bollywood, Street dance and Contemporary dance and is happy to try anything that makes her, and her students smile.
Krupa has been part of many Dance projects and has worked for companies such as Sardines Dance Collective, Bollywood Vibes, East London Dance, Sadlers' Wells, Casson and Friends, Nutkut and many more. She has featured in Harry Potter and the Goblet of Fire and also performed Live on SKY 1 for the Cricket World Cup Opening Ceremony.
Krupa feels dance is EVERYTHING! It does not judge us.
Lee Phillips (Actor / Dancer)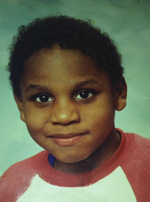 Trained at Pineapple Dance Studios with ample experience performing on numerous platforms from community 'Tea Dances' to the international 2012 London Olympics.
Lee enjoys dancing various styles from hip-hop, Street Dance and Dancehall to creative contemporary movement and physical theatre.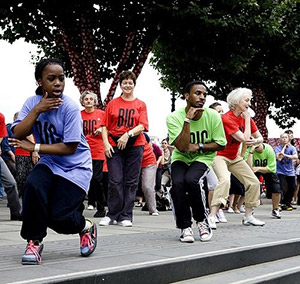 Lee also has a real passion for acting, using his strength in amalgamating spoken word with seamless movement with compassion, care, patience and high quality creativity choreography making him a success in integrated and intergenerational projects and platforms.
Lee's skills has led him to work with companies such as Complete Connections Youth Dance, London Bubble, Access All Areas and Entelechy Arts performing and assisting regular projects working with local community in care homes, community and education groups and art professionals.
Cortez Nelson (Dancer)
Cortez fell into dance at a young age joining a dance group called Stylisters ran by his aunt. This fuelled his passion for performing, and that sparked the beginning of a life on stage.
Cortez did not let his cerebral palsy hinder him and performed regularly on many well known theatre's across London.
After completing a 4yr BTEC in Performing Arts at NewVIc, Cortez continued his studies at performing arts in Hereward College in Coventry where he starred in Sex & Drugs and Rock & Roll- the story of Ian Dury.
Cortez currently performs & co-delivers for Sardines Dance's youth company (Complete Connections) and is also part of his church dance group 'Moving Word'.
Cortez hopes to start his own integrated dance group in Coventry in the near future.